Education
ETV is recognized nationwide as a model for delivery of educational content. From programming that inspires young learners, to preparation of a 21st century workforce essential to attracting businesses and jobs, to professional development for South Carolina's teachers, ETV provides lifelong learning opportunities to South Carolinians throughout our state.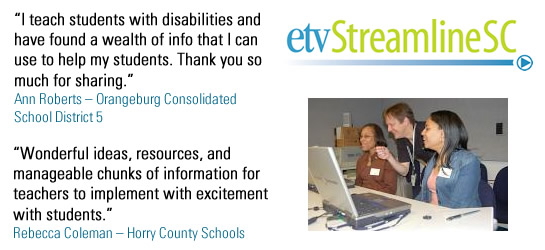 Through El have access to searchable, standards-based curriculum content through Web delivery and hands-on workshops. ETV provides content, technology resources, and professional development training to S.C.'s 50,000 teachers in all 81 school districts and other special schools, and their students.
ETV's commitment is to provide access and equity to educators and support staff in every school across South Carolina, especially underserved rural areas. ETV reaches teachers and students throughout the learning environment: K-12, universities, colleges, technical colleges, home and private schools, and child-care providers.
ETV collaborates with the Department of Education, the Education Oversight Committee and the S.C. K-12 School Technology Initiative to provide more than 10,000 educational videos online through StreamlineSC. This service is made available at no charge to every public, private and home school student, regardless of economic status. StreamlineSCgenerates 3.2 million views of videos each year, the highest video-on-demand use per teacher of any state in the nation for a service of its kind.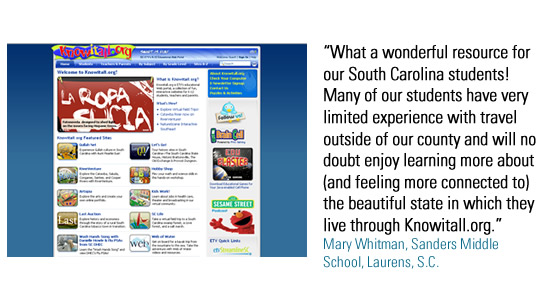 ETV's Knowitall.org K-12 educational portal was the state's first educational portal designed to present students with a safe, standards-based, interactive learning experience. Most of the simulations, virtual field trips, and educational games on Knowitall were conceived and produced in South Carolina by the ETV staff. The portal has attracted national acclaim, including a Corporation for Public Broadcasting 2010 Innovation in Education Award. Knowitall generates more than 4 million page views each year.
ETV's early learning service and literacy programming are provided through its "Ready to Learn" schedule of programming, through which ETV airs over 2600 hours of safe-haven, noncommercial, curriculum-based children's programs for our youngest learners. The broadcast programs are complemented with online games and mobile applications that have proven to increase literacy rates and education readiness.
ETV's educational initiatives also serve the state's public service officers by providing online training and recertification. The Criminal Justice Academy has access to timely videos on-demand, and online course services for 13,000 S.C. law enforcement officers throughout the state. ETV's online training delivery includes helping first-respondersunderstand the variety of emergency systems, and how local and state public safety officials react in emergencies across South Carolina.
Overall, ETV's Education Services are core to the state's lifeline and its educational directives.